Anti-mould & Bacteria Pre-filter
Effective against allergens and pollen
Description
- Stop growth of mould & bacteria maintaining clean air 
- Commonly used in any premises such as hospitals, schools, workplace, residential areas and many more where cassette or wall mounted type are applicable
Benefits
- Suppress the growth of mould and bacteria which prevents virus and mould propagation 
- Reduce the effects of pollens and allergens
- Suppress the mould stains and odor on the inside of the indoor unit
- Washable and reusable, reducing cleaning time
Installation Method
When installed inside the panel of an air conditioner
- The standard sized pre-filter can be installed for models that have automatic or those that has a gap between the grille and front panel. 
- For wall mounted FCU, 1 piece of anti-mould filter sheet can be cut into 2 pieces, 1 piece per FCU.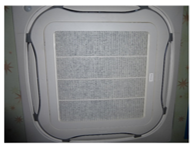 1. Cut 1 piece of pre-filer and install on the grille cover inside the panel. 

2. Install the original filter until you hear a click.

When installed outside the panel or in cases other than air conditioner
- Cut slightly larger than the installation location as the material will shrink little by little with repeat wash.
- Attach using mechanical fasteners (velcro). Be careful as there is a possibility that it will drop if the adhesive strength is weak.

- Fixing a filter with mechanical fastener (velcro) will allow it to act as a double-stick tape that can be used repeatedly. These are commonly sold in home centers.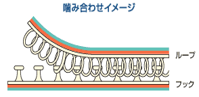 - Effective in just spreading, running on the top by stick on method.
Note: This filter is not tested on its effectiveness against Coronavirus (COVID-19).
Other Applications
Hygiene Control
- Places or locations at open ventilation areas can be kept clean by using them to trap unwanted dirt & dust.
Bookshelf
- By covering your favourite books, this pre-filter prevents pages of the books from turning mouldy. 
Specifications
| | |
| --- | --- |
| Dimensions (mm): | 570(W) x 570(L) x 3(T) |
| Mass (g): | 60 |